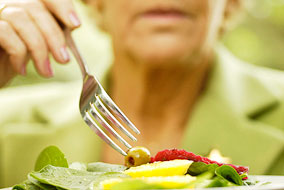 To eat or not to eat? Researchers will study how personal interactions can improve readiness to change - photo by Martin Dee
UBC Reports | Vol. 52 | No. 1 | Jan. 9, 2006
Eating Disorders
Understanding the supportive role of families and friends
By Hilary Thomson
Imagine the fear and frustration of those who love someone with an eating disorder -- an illness where refusal of treatment, dropout and relapse are commonplace.
Josie Geller hopes to improve this scenario with a study that will explore how family and friends of an individual with an eating disorder can best support them and contribute to their recovery.
A UBC associate professor of psychiatry, Geller is director of research at the Eating Disorders Program at St Paul's Hospital. She specializes in issues surrounding readiness to change. She and program colleagues Suja Srikameswaran, a clinical assistant professor of psychiatry, and post doctoral fellow Erin Dunn will examine social support in eating disorders.
"Individuals with eating disorders are notoriously ambivalent about recovery," says Geller. "Although we know social support is crucial in promoting recovery from illness or trauma, people with eating disorders describe the social support they receive as inadequate."
There may be many factors that account for that feeling, but little is known about them, adds Geller. She and her research team want to find out what actually occurs in interactions between people with eating disorders and their family and friends.
The three-year study is the first of its kind to examine social support in a clinical setting in a comprehensive way. Researchers will look at content of interactions, how support is given and how satisfying the interactions are from the patient's perspective.
They will study anorexia nervosa -- an eating disorder characterized by low body weight -- and bulimia nervosa -- characterized by binge eating and vomiting. Rates of recovery for anorexia and bulimia are reported to be only about 40 per cent, making new approaches and improved interventions a critical need, says Geller.
The researchers will study 110 individuals over the age of 17, recruited from the St. Paul's program, their parents and their friends as well as 20 individuals who have recovered and 20 family and friends who have supported someone with the illness.
Friends and family members may not be able to offer valuable support because they perceive the illness as a problem with eating that can be, and should be easily fixed, says Geller.
"It's unfair to ask individuals to give up their eating disorder until they've decided they want to, and have found alternative ways of meeting needs that eating disorder thoughts and behaviours provided."
Patients' medical and psychiatric safety is ensured throughout treatment, while health-care providers help them unravel complicated motivations.
"The person may experience the disorder as shameful, isolating and harmful, but the symptoms may also provide a sense of accomplishment and a way of avoiding difficult emotions."
Researchers will ask study participants to respond to vignettes or scenarios that depict common social dilemmas for those with eating disorders -- such as being harassed by peers to gain weight -- to learn more about supportive interventions. They will also interview recovered individuals to find what kinds of support they found valuable, as well as friends and family to find out more about their beliefs about chronic illness and barriers to recovery.
Researchers will also be further exploring a paradox revealed in earlier studies. Supporters acknowledged that collaboration with the patient and allowing them to recover at their own pace was a helpful intervention. However, the same supporters were also shown to be controlling and directive.
"We want to find out more about what drives that behaviour," says Geller. "So little is known about supporters' own distress, beliefs or understanding of the disorder."
Research results will serve as a resource for eating disorders workshops and to help create materials to help family and friends support loved ones to recover from eating disorders.
Anorexia and bulimia predominantly affect young women and it is estimated that three per cent of Canadian women will be affected by eating disorders in their lifetime. Eating disorders have the highest mortality rate of any psychiatric illness, with 10-20 per cent of patients eventually dying from complications, according to the Canadian Mental Health Association.
For more information on eating disorders, visit the National Eating Disorders Information Centre web site at www.nedic.ca.
St Paul's Hospital is part of Providence Health Care that provides care in partnership with Vancouver Coastal Health and offers specialty services in co-ordination with the Provincial Health Services Authority.