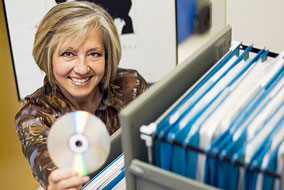 Luciana Duranti heads a project to establish clear guidelines for preserving electronic records - photo by Darin Dueck
UBC Reports | Vol. 52 | No. 1 | Jan. 9, 2006
UBC Archivist Leads World Effort to Preserve Digital Records
Now that Grandma has learned to upload her digital photos and Dad has agreed to file his tax returns online, we're all wondering how cyber records will stand the test of time.
more...
Africa's Top Health Challenges
Impromptu ukulele concerts and munching mangoes by moonlight may seem like scenes from a carefree holiday.
more...
The Next Big Thing
UBC Reports asked a range of UBC experts to tell us about the Next Big Thing that will have an impact on our lives.
more...
Student Club First to Earn Canadian International Education Award
A group of UBC political junkies are attracting the attention of international diplomats with a series of innovative programs.
more...
Critical Thinking Goes Beyond Borders
Phil Balcaen has traded the past two December holiday seasons in Canada for a chance to help several schools in India.
more...
Eating Disorders
Imagine the fear and frustration of those who love someone with an eating disorder -- an illness where refusal of treatment, dropout and relapse are commonplace.
more...
Simple Worm Holds Clues to Human Learning, Memory
What can we learn from a brainless, one-millimetre worm about human behaviour and mental disorders?
more...
Tsunami Response One Year Later
When the devastating tsunami hit Southeast Asia in Dec. 2004, Shane Barter knew from experience that the best thing UBC had to offer was the energy and passion of its students.
more...
Engineering Students Compile Seismic Guidelines for Tsunami Reconstruction
Sahar Safaie prepared herself for the worst natural disaster in recent history when she traveled to northern Sumatra.
more...
Features