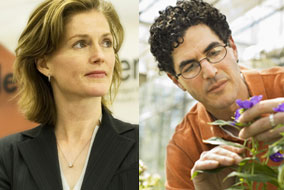 Natalie Dakers and Prof. Andrew Riseman - photo
by Martin Dee
UBC Reports | Vol. 51 | No. 7 | Jul. 7, 2005
Research that Transforms Our Lives
What do Visudyne ®, a world-leading treatment for age-related blindness and Web CT, a web learning tool used by 10 million university students, have in common?
more...
New Device Promises Relief for Those Facing Bladder Disorders
A new diagnostic device developed by a UBC research team has got people -- including investors -- talking about urinary incontinence (UI).
more...
Electronic Paper One Step Closer
Anyone who's ever had trouble reading their cell phone or PDA display will appreciate a new technology that promises to deliver electronic displays as clear as ink on paper.
more...
UBC's Serial Entrepreneurs
Robert Hancock will readily admit it was romance that guided him to become a scientist.
more...
UILO Director Pilots Great Ideas to Market
Gliding would strike any sane soul as a pastime rife with risk. But somehow it makes sense that flying an engine-less aircraft features high on Angus Livingstone's favourite to-do list.
more...
Endangered Sri Lankan Plants Live on in New Flower
If you think naming your pet is stressful, try naming an entire species of flowers.
more...
An Alternative View: Prof Makes Innovative Animation Codes Open Source
If you were convinced that British child actor Daniel Radcliffe really could fly when he straddled the magic broom in Harry Potter and the Chamber of Secrets, you have Robert Bridson to thank.
more...
Research CEO aims to Shorten Drug Development Process
To find a unique perspective on how UBC commercializes research, just talk to Natalie Dakers.
more...
New Ovarian Cancer Test on Horizon
A medical researcher's desire to help others can often be a painstaking adventure in patience, says Nelly Auersperg, a UBC professor in Obstetrics and Gynaecology.
more...
Resident Entrepreneur Builds New Venture Pipeline
We're redefining business ventures at UBC -- that's the message UBC's Entrepreneur-in-Residence Gary Albach is sending to campus researchers and venture capitalists.
more...
A New Breed of Tech Transfer Professionals
WestLink Innovation Network Ltd. is turning out a new breed of tech transfer professionals through a visionary internship program.
more...
Flintbox™ -- UILO's Cyber Unit
Developed at UBC, Flintbox™ streamlines and short cuts the usual high costs associated with licensing and marketing early stage research results, especially unpatentable technologies.
more...
WebCT Revolutionized E-learning
If UBC were to set up a hall of fame for research spin-off companies, Murray Goldberg would be one of the first picks.
more...
Features