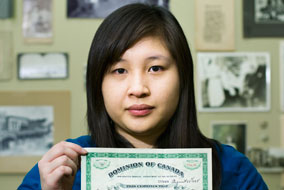 UBC student Angela Wong holds a genuine head tax certificate hailing from the Chung Collection, located in the Irving K. Barber Learning Centre - photo by Martin Dee
UBC Reports | Vol. 55 | No. 4 | Apr. 2, 2009
Generations Come Together To Tell Head Tax Stories
By Glenn Drexhage
A new UBC initiative will bring generations together to tell the oft-untold stories of Chinese-Canadians who endured some of this country's darker days.
The federal government's Community Historical Recognition Program (CHRP) is giving $50,000 to support a UBC project that involves students interviewing elders from B.C. communities. The idea is to preserve and archive Chinese-Canadian experiences from 1885 to 1947, during the times of the restrictive Chinese Head Tax and Chinese Immigration Act.
"This project is extremely important for understanding the history of Chinese-Canadians as well as Canadian national history," says Angela Wong, a 24-year-old UBC student participating in the effort. "Growing up in an education system that often portrayed Chinese-Canadians as simply railway workers in Canadian history, I felt there was an imbalance in our historical narrative." Wong will help coordinate and run interviews for the project, and teach other research assistants about the art of effective interviewing. She completed the history honours program last year, and begins her master of Arts in Asia Pacific Policy Studies next September, also at UBC.
Sid Chow Tan, the grandson of a head tax payer who is helping select interviewees for the project, echoes Wong's views. "I recall that my high school and university courses in the history of Canada had little or nothing on the Chinese contribution to the building of Canada," he says. "It will be good for all Canadians, particularly students and those of Chinese descent, to know about the foundation laid by the lo wah kiu – the old overseas Chinese."
The three-year project is the brainchild of Henry Yu, an associate professor in UBC's Department of History. "I think this is utterly important because we need to begin to produce an archive for the future," says Yu, also the Director of the Initiative for Student Teaching and Research in Chinese-Canadian studies (INSTRCC). That group, launched by UBC in 2007, is part of an effort focusing on the Asian-Canadian role in the development of Pacific Canada (more can be found at www.instrcc.ubc.ca).
The CHRP-funded project gets underway this month and will involve three to five students annually, selected by Yu and Allan Cho, Program Services Librarian at the Irving K. Barber Learning Centre. The students will receive training in community-based research and then embark on interviews in the Lower Mainland, Victoria, Nanaimo and the Okanagan.
Completed interviews will be archived online, thanks to server space and technical support from UBC Library. In addition, follow-up workshops, lectures and public events will be held at the Learning Centre. Yu and Peter Ward – the university librarian pro tem and a history scholar and professor – recently completed a comprehensive digitization project that features more than 96,000 entries to the Chinese Head Tax Register. Students will also be trained in the use of this database for the UBC project.
Ultimately, the goal is that all participants, from young scholars to elderly interviewees, will gain from the experience. "This is not about one set of people (the researchers) doing the learning," asserts Yu. "It's a broad learning process for everybody involved.
UBC student Angela Wong holds a genuine head tax certificate hailing from the Chung Collection, located in the Irving K. Barber Learning Centre (Rare Books and Special Collections).
Video search helps tell stories
The UBC project to preserve and archive Chinese-Canadian experiences will involve the use of interactive video/transcript viewer (IVT) technology, developed as part of UBC's First Nations Studies Program. This application makes it possible to search a video interview using a transcription of the dialogue, making the overall process more accessible and useful. "It's a powerful tool that allows researchers to find key words about what they're interested in," says Allan Cho, Program Services Librarian at the Irving K. Barber Learning Centre.