Grad's passion for learning passed on
by Hilary Thomson
Staff writer
---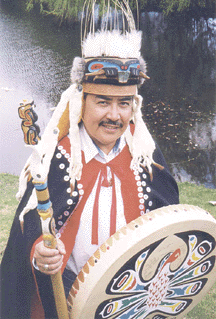 Hereditary Nisga'a chief Peter Nyce was helping people learn long before he enrolled in UBC's Faculty of Education.
It started in 1987 when his twin daughters, Samantha and Shannon, were in Grade 4 and he was invited to the school to give a cultural show and tell.
That's when Nyce, who was then working as a commercial fisherman, got hooked on education.
When he picks up his Master of Education degree during Spring Congregation May 26 to June 2, Nyce joins more than 5,500 students receiving degrees in 23 separate ceremonies taking place at the Chan Centre for the Performing Arts.
Nyce called his cultural presentation kit of family treasures the Tail of the Beaver, a translation of one of his Nisga'a names.
"I use functional art to teach," says Nyce, one of 14 siblings born on the reserve at Canyon City in the Nass River area of northwestern B.C. "I believe in the art of teaching with cultural artifacts using a hands-on approach."
He and his wife Hazel used items such as a deerskin drum, a 145-year-old bentwood box, feast bowl, button blankets and a cedar cradle to help children learn about First Nations culture. They also included videos, slides and traditional Nisga'a food, such as oolichan fish and sundried herring eggs on kelp.
Nyce gave the two-hour presentation to more than 100 elementary schools in Surrey and Vancouver from 1989 to 1991 while still working as a fisherman, his occupation of more than 20 years.
The satisfaction of teaching the Tail of the Beaver reinforced Nyce's belief in the value of cultural education and inspired him to enrol in UBC's Native Indian Teacher Education Program in 1990. He had already obtained a Fine Arts diploma from Kwantlen College in 1986.
He started his Master of Education degree in 1997 and developed curriculum materials to teach First Nations culture, particularly the art of the Nisga'a, as his graduate project.
"I think it's important to have First Nations teachers in public schools and in reserve schools," says Nyce, one of 6,500 Nisga'a in B.C. "I'm able to tell my story of successes and failures that got me where I am today. That helps young people see that we can make it -- it's possible."
Nyce has served as an elected education co-ordinator for the Nisga'a Tribal Council for two years. As a Lower Mainland representative, Nyce helps to develop curriculum and also chairs education conventions in the Nass River area.
Currently teaching a native studies course at Earl Marriott Secondary School in Surrey, Nyce feels he is preparing for an opportunity to return to the Nass River area to teach.
"Another of my Nisga'a names, Tiiowkx, describes where I'm at right now," he says. "The name means where the salmon rests before going up river. I'm not resting but I do see that another journey lies ahead of me."
---
This year's Congregation ceremonies take place Wednesday, May 26 to Friday, May 28 and from Monday, May 31 to Wednesday, June 2. Ceremonies will be held at 8:30 a.m., 11 a.m., 2 p.m. and 4:30 p.m. each day except Friday, May 28 on which there will be no 4:30 p.m. ceremony.
Degrees will be conferred on students from 12 faculties. Six honorary degrees will also be conferred.