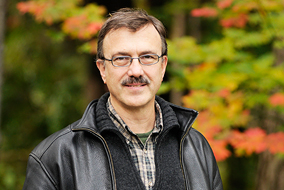 Paul Demers is leading a study that's examining how and where Canadians are exposed to carcinogens - photo by Martin Dee
UBC Reports | Vol. 55 | No. 6 | June 4, 2009
Calculating Canadians' exposure to carcinogens
By Sean Sullivan
Could where you live or work determine your likelihood of developing cancer? New research from UBC's School of Environmental Health aims to find out.
CAREX Canada, based at UBC's School of Environmental Health, is examining how and where Canadians are exposed to cancer-causing agents in our air, water, soil, food and everyday products.
"In Canada we really have very little idea how many people are exposed to carcinogens, either in their community or workplace," says project leader Paul Demers.
In fact, there are no statistics showing how many Canadians are exposed to occupational and environmental carcinogens, how and where they are exposed, and at what levels.
"We want to know who is exposed, what they're exposed to, and how to set policy to address this," says Demers, a professor and director of the School of Environmental Health.
The project is funded through a $4.1 million commitment from the Canadian Partnership Against Cancer, an independent agency funded by Health Canada.
Data gathered from across the country will be used in a number of ways. It will help policy makers regulate and reduce people's exposure to cancer-causing substances and provide important data to help guide future cancer research.
The first-of-its-kind database will also consider geographic patterns of exposure to carcinogens in Canada, and identify high-risk groups to help target prevention efforts.
"The impetus behind this is cancer prevention," Demers says. "We need to target groups that have the highest levels of exposure and know which carcinogens to target if we want to prevent cancer."
Demers and his team are looking at well-known carcinogens such as benzene and asbestos. They're also considering other substances that have been suspected to be carcinogenic, such as lead – a known reproductive toxin and neurotoxin.
While it's easy to point a finger at industrial sectors as polluters, there are more silent, discreet ways for substances to threaten communities and individuals.
The research will also examine radiation and drugs used in chemotherapy, which can be toxic to health-care workers performing the procedures. Likewise, individuals working in dry cleaning and auto repair could be affected by the products they routinely use.
Even schools, where cars may congregate to drop off children each day, can be a dangerous place: traffic-related air pollution has been associated with lung cancer.
The group is pulling together data from government agencies such as Statistics Canada, Environment Canada and the Pesticide Management Regulatory Agency, but also private industry and universities.
The end product will be an "incredibly useful tool" for people who are looking at preventing cancer, Demers says.
"We really don't have much data along these lines in any Canadian jurisdiction," he says.
This data will be freely shared with policy makers, researchers and health and safety professionals when the project wraps up in 2012.