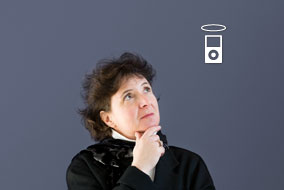 Prof. Judy Illes believes that a code of ethics should be adopted for neuromarketing techniques. - photo by Martin Dee
UBC Reports | Vol. 55 | No. 4 | Apr. 2, 2009
Can brain science manipulate consumers?
By Catherine Loiacono
Ever question the ethics or science behind advertising? Well, Prof. Judy Illes does.
In fact, Illes, Director of the National Core of Neuroethics at UBC, is exploring the ethical issues around neuromarketing, an emerging field of marketing that uses neuroscience to get you hooked on the latest fad.
Illes and her colleagues believe that companies using neuromarketing techniques should adopt a code of ethics to ensure beneficent use of the technology.
"The field of neuroscience is evolving at a rapid rate," says Illes, who is also a Canada Research Chair in Neuroethics. "Advances in scientific technologies can give us intimate details about the inner workings of our brain. Neuroethics considers the social, cultural, personal and religious implications of these advances in neuroscience."
Neuromarketing uses neuroscience to study the brain's responses to marketing stimuli. It aims to understand a consumer's decision and the part of the brain that influences that decision.
Researchers use technologies such as functional Medical Resonance Imaging (fMRI) or EEG to measure the changes in activity in various parts of the brain based on a subject's response to specific products, packaging, advertising, and logos.
"Neuromarketing is a still a relatively new field," says Illes, who is also a member of the Brain Research Centre at UBC and Vancouver Coastal Health Research Institute. "The premise is that directly peering into a consumer's brain while viewing products or brands is a much better predictor of consumer behaviour."
The brain responses to fMRI and EEG may be more revealing than traditional marketing studies such as surveys or focus groups because measured reactions come directly from brain signals.
"Neuroscience can be used as a powerful tool to advance commercial interests," says Illes. "But the use of technology that probes the inner workings of the human brain, especially beyond what one might knowingly divulge in traditional behavioral testing, raises substantial ethical issues."
"There are three major ethical issues for consideration," says Illes. "First, we must protect parties who may be harmed or exploited by neuromarketing. Second, we must protect consumer autonomy if neuromarketing reaches a critical level of effectiveness and third, we must protect scientific integrity."
According to Illes, neuromarketing has the potential to harm vulnerable persons including persons with neurological disease, psychological disorders and children. An example would be marketing fatty foods to morbidly obese people, drugs for educationally challenged youth, cigarettes to smokers or alcohol to alcoholics. She suggests a special ethics review should be a minimum standard for neuromarketing research.
In academic and medical research centres, subjects volunteering to participate in neuroimaging-based studies are protected by Institutional Review Board guidelines, which can include strict experimental guidelines. However, when moved into private enterprise, such subject protections may not be present.
"The particularly loose restrictions surrounding studies for marketing purposes outside the academic sector are especially worrying," says Illes. "Moreover, if new technologies are developed that fall outside the purview of regulatory authorities, even these protections may be lost. Subject protections should be equal to those required by academic and medical research centres."
The most vexing of the issues for Illes is in the realm of autonomy. Of most concern is whether future neuromarketing tools will provide sufficient insight to allow manipulation of brain function of which the consumer is unaware, and results in a desired behaviour.
"Insights from advanced technology in the neurosciences might allow corporations, governments and others to influence decisions and actions regarding brand preference without the individual being aware of the subterfuge," says Illes. "Such stealth neuromarketing is not possible with current technology, but if developed would represent a major incursion on individual autonomy."
Scientific integrity can also be compromised because current neuromarketing research is not subject to the high standards of peer-reviewed journals.
Illes sites an example in an op-ed piece in the New York Times where a group of academics and neuromarketers presented a small body of unpublished data on the results of an fMRI study of political preferences of swing voters. The study mentioned in the op-ed did not contain the qualifications that would accompany a scholarly article in a peer-reviewed journal. For several days after its publication, the article topped the rankings of those most frequently emailed by readers. Academic colleagues responded with considerable outrage in letters to the editor because of over-interpretation of fMRI data.
"Such misrepresentation can do considerable damage to the public trust of science," says Illes. "Not only would adoption of a code of ethics generated in collaboration with the neuroscience community, neuroethicists and marketing companies be justified on moral grounds but it would also serve to insulate this young and dynamic industry from accusations of irresponsible behavior."
Prof. Judy Illes believes that a code of ethics should be adopted for neuromarketing techniques.
Inside buyers' brains
In a recent book called Buyology, Brand Consultant Martin Lindstrom presented the findings from his four-year neuromarketing study that peered inside the brains of 2,000 volunteers from around the world as they viewed commercials, brands and products.
The study revealed that images of dominant brands, such as the iPod, stimulated the same part of the brain activated by religious symbols. It also found that warning labels on cigarette packages stimulate activity in a brain area associated with craving – despite the fact that subjects said they thought the warnings were effective. The study also found that product placement in movies and television rarely worked and the Nokia tune turns people off.