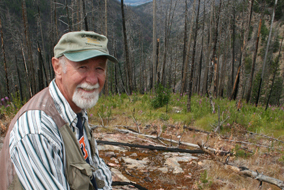 Maury Williams overlooks an area of Myra Canyon that was devastated by forest fire in 2003 - photo by Jody Jacob
UBC Reports | Vol. 54 | No. 10 | Oct. 2, 2008
People Dig the Way These Guys Teach
Community Learns About Long Lost Labour Camps
By Jody Jacob
Crouched in small, segmented squares of land, lost in a world of dirt and artifacts, history unfolds before their eyes. Slowly, they unearth clues about the lives of the people who stood in that same spot nearly a century ago. For many here, this is their first -- and likely their last -- archaeological dig.
Welcome to the UBC Okanagan field school in the rugged hills overlooking Kelowna, set up by Richard Garvin, associate professor of archaeology, and Maury Williams, associate professor of history. Grab a shovel and pull up a stump. Everyone's invited.
"As UBC professors, we feel it's part of our job to educate and engage the community and involve our students," says Garvin. "We wanted to see UBC Okanagan actively involved with history and anthropology work in the Okanagan Valley."
That's why Garvin and Williams included university students and community members in their summer school. It's part of a four-year archaeological research project that explores the long-lost camps of the labourers who built the legendary Kettle Valley Railway. The camps were discovered in 2003, after a devastating forest fire burned through the difficult terrain of Myra Canyon, destroying magnificent wooden trestles but also the dense underbrush that had been hiding historically significant labour camp foundations, trails, bread ovens and more.
Through a partnership with the Kelowna Museums and the Penticton Museum and Archives, Garvin and Williams hosted a series of community digs this summer that brought more than 100 people to their active research site. Participants were given a guided historic tour of Myra Canyon's soaring trestles and a brief archeology orientation before getting the chance to uncover history themselves.
Not only did the digs capture the public's imagination, they also gave the 12 students a chance to act as tour guides and share the knowledge they gained during the dig.
"Students love the hands-on aspect -- the sense of discovery is really something that stays with them for a long time," Williams says.
Students who completed the field school received nine credits – six in anthropology and three in history. Most of the students are neither history nor anthropology majors.
"It is a very eclectic program," Garvin says. "Students do a little of everything: they use chainsaws, they work on mapping and surveying, they have to write papers and communicate orally with the public, they are taught the more refined skills of digging, and they learn conservation of items and cultural resource management, too."
UBC Okanagan alumnus Ashley Black, who graduated with a Bachelor of Arts in international relations in 2008, was one of six students who completed last year's summer field school. She became involved again this year through her work at the Penticton Museum and Archives, where she helped coordinate the museum's participation in the community dig.
"As a student I got a lot out of the experience," says Black. "I gained a whole new appreciation for history. Working with your professors is a great advantage. The paper I wrote for my final project is being published in The Okanagan Historical Society's annual report."
To ensure archeological and historical work will continue in the Okanagan Valley, Williams is donating the proceeds from his new book Myra's Men -- which chronicles the development of the Kettle Valley Railway and explores the lives of the people who built it -- to a fund that can be accessed by students, faculty, and the public to help support local archeological or historical research.