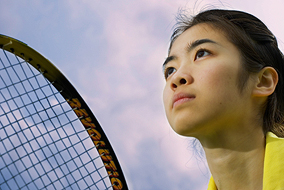 B Comm grad Nina Yang's passions include philanthropy, tennis, corporate finance and Sartre - photo by Martin Dee
UBC Reports | Vol. 54 | No. 5 | May 1, 2008
Sauder Student Wall Street Bound
By Lorraine Chan
Nina Yang plans on using her business skills to close the gap between the haves and the have-nots.
"If used wisely, business can be a very powerful tool for shaping the direction of the world," says Yang, who graduates this spring with a BComm from the Sauder School of Business.
Yang says her greatest achievement at UBC has been to apply a model of philanthropy that aligns the incentives of both the non-profit and business worlds and encourages cross-sector collaboration.
In 2006, Yang with 10 other UBC students founded Global Fund for Education Aid (GFEA), which operates business projects to generate the funding needed to send impoverished children to school.
"So far, we've helped 10 children ages 10-16 in Guiyang, which is in the province of Guizhou in central China."
The students pooled their collective talents and skills in promotion, marketing, accounting and finance to make GFEA a success. After researching possible products, the students decided to help the villagers market their batik fabrics, framing and selling these one-of-a-kind textiles to businesses in Vancouver.
"GFEA is based on a creative and sustainable model of giving that we learned about in school," says Yang, "It's not another charity that gives out donations. Instead, we're helping people find their own strength so they can pull themselves out of poverty."
Yang has been accepted into the Harvard Business School, and has full-time offers from premier Wall Street investment banking firms, including Merrill Lynch.
Yang says she has always been drawn to corporate finance, analyzing how a company will perform given certain economic and industry trends.
Yang says she hopes to eventually join the ranks of management on Wall Street. "At the same time," she stresses, "I want to stay connected with my community and empower those who are less fortunate."
In her down time, Yang relaxes by playing soccer and tennis -- she was varsity champion at her high school in Richmond."
Already fluent in English, Mandarin and Cantonese, Yang is adding French to her repertoire thanks to the "fantastic French professors" at UBC. Lately, she has been savouring the existential angst of Jean-Paul Sartre.
"He's my favourite author."