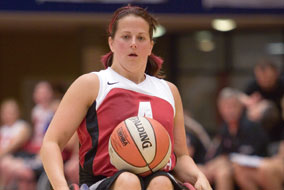 Jennifer Krempien dominates the court - photo by Bogetti-Smith Photography
UBC Reports | Vol. 54 | No. 7 | Jul. 3, 2008
Hungry for Another Gold
By Meg Walker
Peanut butter and jelly sandwich, a banana and half a granola bar. These simple comfort foods make up Jennifer Krempien's favorite pre-game meal and she plans to continue the ritual when she competes with the Canadian Women's National Wheelchair Basketball Team this September.
A pediatric clinical dietitian at B.C. Children's Hospital, Krempien has a unique relationship to food. For her Master's of Science in Human Nutrition at UBC, she is looking at the nutrient intakes of elite Canadian athletes with a spinal cord injury and some of the factors that are influencing those intakes.
"I am interested in this topic because as an athlete with a spinal cord injury, I was struggling to interpret the performance nutrition recommendations made for able-bodied athletes," she says. "Physiologically and metabolically, athletes with a spinal cord injury are very different than their able-bodied colleagues."
Krempien started playing wheelchair basketball at age 9. In 1992, she joined the Canadian women's national team and played in her first Paralympic Games in Barcelona, where the team won gold. In her 16 years with the team, Canada has won three Paralympic gold medals, including the 1996 Atlanta Games and the 2000 Sydney Games. The team also won bronze at the Athens 2004 Paralympic Games and four World Championship gold medals.
The year leading up to Beijing has been very demanding, as the team has been to several international competitions to prepare for the Paralympics. Krempien says her colleagues and especially her MSc supervisor, Dr. Susan Barr, have been extremely supportive and understanding of the time needed to prepare for committing to gold.
Krempien says the thing she looks forward to most at the 2008 Paralympic Games is leaving a legacy for the almost one million people with disabilities living in Beijing. "I hope that having Beijing host the Paralympics will initiate major improvements in overall accessibility and break down some of the cultural barriers that face people with disabilities currently," she says. "I am hopeful [the people of Beijing] will be able to look beyond the disability and be awed by the raw human potential on display."