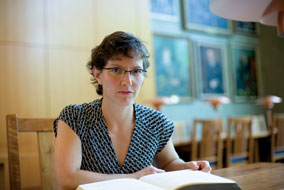 UBC Law Innocence Project Director Tamara Levy - photo by Eugene Lin
UBC Reports | Vol. 54 | No. 8 | Aug. 7, 2008
Students Advocate for Wrongfully Convicted
By Lorraine Chan
The UBC Law Innocence Project is offering students a chance to dive into the deep end of criminal law by working on claims of wrongful conviction.
Launched in 2007, the Innocence Project investigates potential miscarriages of justice and aims to secure the release of people who have been wrongfully convicted.
Worldwide, Innocence Projects number about 70 and are mostly based in law schools. The only one in Western Canada, the UBC Law Innocence Project has been reviewing the cases of 20 applicants, 16 of whom are serving sentences for murder.
Open to second- and third-year Faculty of Law students, the Innocence Project provides nine course credits for the year-long commitment. The program comprises academic seminar and clinical work that involves reviewing a case from the original investigation to the final appeal. Students are responsible for case reviews, investigations, staffing the Innocence Project office and liaising with a criminal lawyer who serves as a mentor.
Working under the direction of lawyers, the students each handle two cases. In its inaugural year, the Innocence Project started by reviewing applications and support materials -- which in some cases exceeded 20 boxes.
"The demand for our service is so great that we've had to give priority to those applicants who are still in prison," says Director Tamara Levy, a criminal lawyer, who along with Law Asst. Prof. Nikos Harris initiated the Innocence Project after teaching seminars on areas of problematic evidence.
The program currently accepts 10 students, preferably people who are ready to roll up their sleeves and gain the experience they wouldn't ordinarily get by sitting in class, says Levy. She looks for maturity, common sense and the ability to jump in and do what needs doing.
"It's the equivalent of working in a small law firm," says Levy. "I believe students learn a great deal more being involved in a real case."
Third-year law student Andrea Hayes made the cut for this year's Innocence Project. Since spring, she and two other students have been working part-time in the Innocence Project office, reviewing and managing files and looking after other general administrative tasks.
If it were possible, says Hayes, she would spend all her class time on the Innocence Project. "I find criminal law both fascinating and exciting largely due to its complexity and unpredictability."
The students manage large files with duties that encompass interviews with prisoners and lawyers, drafting legal memoranda and conducting legal research.
Rather than be deterred by the pressures and big stakes of criminal law, Hayes says she's challenged by it. Prior to law school, Hayes worked as a paralegal for four years focusing on human rights law with the Community Legal Assistance Society, a non-profit legal organization in Vancouver. She assisted the four human rights staff lawyers in all aspects of a complaint.
"My desire is to be in court," says Hayes. "I decided to study law because of my desire is to help people. With the work in the Innocence Project and criminal law in general, I can advocate for people who are unable to speak on their own behalf."
Levy says that students get to see up close what skews or resets the scales of justice. "The criminal justice system is a system run by people and people can make mistakes."
Key to any Innocence Project is the prospect of convincing new evidence. For example, recent advances in DNA technology mean blood or semen tests can be more exact. Alternatively, a new witness or new witness statement may come to light.
Levy explains that students get to learn about some of the main causes of wrongful convictions. These include mistaken identity, false confessions, flawed expert or unsavoury witness testimony and "bad science."
"For example, hair and fibre evidence have been found to be quite unreliable," says Levy.
Since the Innocence Project is student-run project, cases that merit attention usually require a number of years to prepare. If and when lawyers find new evidence, they can then submit an application to the Federal Minister of Justice under Section 696.1 of the Criminal Code requesting a review to assess whether a miscarriage of justice has occurred.
After that, the process may still take a number of years. The Minister of Justice could dismiss the request, direct the applicant's case to the Court of Appeal or order a new trial.
During the coming academic year, students -- in consultation with their criminal lawyer mentors -- will devise investigation plans for their cases. If required, the program will hire private investigators to interview witnesses and gather evidence.