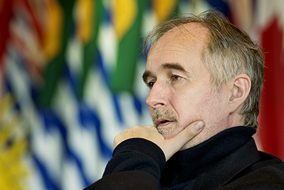 Micheal Krausz: concurrent disorders require holistic approach - photo by Martin Dee
UBC Reports | Vol. 54 | No. 4 | Apr. 3, 2008
UBC Psychiatry Prof. to Help Lead Mental Health Collaboration for Vancouver's Downtown Eastside
By Catherine Loiacono
"If you are not investing in innovative strategies, you are not moving forward in solving the pressing issues of today," says Dr. Michael Krausz, UBC Prof. of Psychiatry and a Clinician at St. Paul's Hospital.
Krausz brings his international expertise in concurrent disorders – the dual diagnosis of mental illness and drug addiction – to address the mental health crisis in Vancouver's Downtown Eastside. Krausz believes in a holistic approach to treating concurrent disorders as well as a collaborative effort between health authorities, universities and government.
Originally from Germany, Krausz arrived in Vancouver close to a year ago to accept the position as Leading Edge Endowment Fund Chair in Addictions Research at UBC. Krausz has recently developed a proposal for the Government of British Columbia to create a new Centre of Excellence for Addiction and Concurrent Disorders at UBC.
Later this month, Krausz will participate with Canada's Mental Health Commissioner Senator Michael Kirby at a special addictions and mental health conference in Vancouver which will focus on concurrent disorders.
Krausz will also Co-Chair Collaboration for Change -- a new initiative led by the City of Vancouver that brings together community and government leaders to help improve mental health services in the Downtown Eastside. This collaboration will also consider opportunities associated with the $110 million allocated by the Government of Canada for special mental health and homelessness projects across Canada.
Widely recognized as a world authority on addiction treatment, Krausz has dedicated his professional life to treating substance abuse and mental illness. At the age of 19, he began training as a pediatric psychiatric nurse. By the mid 1990s he was leading one of the world's largest addiction trials at the University of Hamburg. Krausz was instrumental in the implementation of the German Methadone Program and the European Cocaine Project. It was through this work that he started to make the connection between concurrent disorders. He also found that improved treatment led to crime reduction.
Vancouver's current situation reminds Krausz of the open drug scenes that existed in Europe in the 1980s and 1990s. He believes Vancouver's situation poses a greater challenge in that homelessness is compounded with substance abuse and mental illness.
"What you see is that a high percentage of individuals are mentally ill and have no place to live," says Krausz. "This has also led to higher mortality rates. In this population, persons are dying two decades earlier due to suicide, overdoses and HIV/AIDS."
He was drawn to UBC when the problems of Vancouver's Downtown Eastside were brought to his attention with the implementation of the North American Opiate Medication Initiative -- a clinical trial that tests whether heroin-assisted therapy or methadone therapy is better for improving the health and quality of life of long-time opiate users. Vancouver and Montreal are the study sites chosen because they have the largest heroin-addicted populations in Canada.
He views Vancouver as an open-minded city that is looking for innovative strategies which go beyond the NAOMI trial and the In-Site program -- North America's first legal safe injection site.
Krausz believes that Vancouver has two years to show the world that it can be a laboratory of solutions and innovative drug treatments. "Our success will be measured by the availability of a broad range of treatments and the number of affected individuals who have access to these treatments," says Krausz. "Addressing these social issues could be the real legacy of the 2010 games."