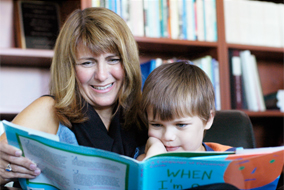 Household income is a major factor in how much time kids spend alone or watching TV, says Kimberly Schonert-Reichl - photo by Martin Dee
UBC Reports | Vol. 53 | No. 10 | Oct. 4, 2007
UBC's Other United Way Contribution: Research
By Basil Waugh
It's 4 p.m., do you know where your child is?
It turns out, the answer can depend on how much money you make.
That is a new finding by Kimberly Schonert-Reichl, a UBC expert on the social and emotional development of children and adolescents, whose research is being funded by the United Way of the Lower Mainland (UWLM).
Her 2006 survey of more than 1,200 Greater Vancouver children was among the first in Canada to explore the psychological and social world of kids aged 9-12, a period known as middle childhood.
She found that kids this age have, on average, 67 hours of free time each week. Troublingly, most spend this time alone, in front of a TV or on a computer.
The findings merit concern for several reasons, says Schonert-Reichl. "Middle childhood is a critical development period. They should be developing social skills and life experiences," she says.
"Besides, one in two of the kids who play video games and watch TV said they would rather be doing physical social activities with friends and adult companions," says the associate professor of educational and counselling psychology and special education.
Schonert-Reichl recently dug deeper into her 2006 findings, looking at differences between children according to vulnerability, as measured by a made-at-UBC tool for assessing school readiness -- the Early Development Instrument (ECI). While many factors can cause a kid to become vulnerable to development problems, she says household income is a primary factor.
Compared with "low vulnerability" households, so-called "high vulnerability" children watched 20 per cent more TV -- 36 per cent compared to 16 per cent -- and played 10 per cent more computer games -- 41 per cent compared to 31 -- she says.
They are also more likely to be home alone -- 15 per cent versus 12 per cent -- and less likely to attend after school programs -- 5 per cent versus 8 per cent.
"Parents said the biggest barriers to putting children in after school programs are cost, time, and transportation," says Schonert-Reichl. "So while kids are telling us they want programs -- which we know are critically important to their development -- parents face all these constraints. This is the gap that United Way programs are really helping to fill."
According to Michael McKnight, President and CEO of the UWLM, UBC researchers are helping to identify pressing social needs in B.C. and determining how the organization prioritizes its efforts. UWLM supports a network of more than 400 programs and services helping people in 24 communities throughout the region.
In addition to Schonert-Reichl research of children aged 6-12, UWLM is funding research by UBC's Clyde Hertzman, who is researching how socio-economic environments contribute to development outcomes for children aged 0-6.
"To strengthen our community, research tells us that we need to focus extra resources on some critical social areas," says McKnight. "United Way is committed to helping more school-age children to be healthy, happy and resilient, so they can succeed in their teen years and beyond."
Examples of United Way-funded initiatives that address priorities outlined by UBC research include: mobile child care services in Surrey, after school programs at East Vancouver's Kivan Boys and Girls Club and a parent empowerment program at Frog Hollow Neighborhood House, also in East Vancouver.
For more information on Schonert-Reichl's work, visit: www.ecps.educ.ubc.ca/faculty/K-schonertreichl.htm.
UBC's United Way Campaign Kicks Off
By Basil Waugh
Research contributions are only one facet of UBC's relationship with the United Way (UW). For over 30 years, faculty, staff and students have donated time and money through UBC's workplace campaign for the UWLM.
This year's campaign kicks off Oct. 1, with a target of $415,000, to be raised through pledged donations and fundraising events.
"UBC's relationship with United Way reflects our Trek 2010 commitment to global citizenship and building a sustainable and civil society," says John Metras, Director of Plant Operations and 2007 UBC United Way Campaign Chair.
"Everyone likely knows someone who needs a United Way service at one time -- whether it's parenting education, after school programs, grief counseling or support for new immigrants or aging parents," Metras says. "Eighty-nine cents of every dollar raised goes directly to local programs."
Last year, the campaign raised $391,000, producing more donations in excess of $500 than any other workplace campaign in the Lower Mainland. In its second campaign, UBC Okanagan raised nearly $37,000 for the UW of Central and South Kelowna.
A variety of campaign volunteer opportunities give people at UBC the chance to make a positive impact while developing important skills, including fundraising, event planning and public speaking.
Each year, UBC staff members can apply to become UW "loaned representatives," giving a boost to UW campaigns at workplaces around the Lower Mainland.
One of the responsibilities of 2007 loaned representative Tracy Chang, from UBC's International Collaboration on Repair Discoveries (ICORD), is to help raise awareness of the campaign among UBC's 15,000 staff and faculty through presentations.
"One of the best ways for units to support the campaign is to invite us to do a short presentation about the United Way and all it does," says Chang. "This campaign is already one of the largest in the Lower Mainland, but our potential for growth is really exciting."
UBC staff also participate in Days of Caring, where small teams leave work for a day to help out at a local program in need. On Sept. 24, a team of UBC volunteers spruced up Berwick Memorial Centre -- the Point Grey home of an UWLW-funded infant development program -- with yard work, a new shed, earthquake kits and some paint.
Previous UBC Days of Caring projects include work at Surrey Delta Immigrant Services Society and the Vancouver's Crossroads Treatment Centre.
For more information, visit: www.unitedway.ubc.ca.