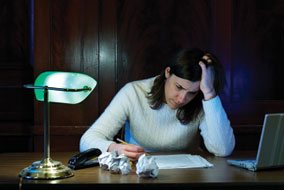 Perfectionism can lead to headaches, a link that's explored in a UBC study - photo by Martin Dee
UBC Reports | Vol. 53 | No. 2 | Feb. 1, 2007
It's a Pain to be Perfect
By Lorraine Chan
When an adolescent girl had to be hospitalized for headaches because of her relentless drive to get straight A+s in school, something was wrong.
That something may be perfectionism, says the Dept. of Psychology's Dayna Lee-Baggley, a post-doctoral researcher who's investigating the impact perfectionism has on physical health and well-being.
Fortunately, as the teenager's therapist, Lee-Baggley was able to help the patient change her pattern and avoid the debilitating pain.
"Once the girl recognized that her tendency to push herself was contributing to her headaches, she realized she had a choice and started to balance her expectations," says Lee-Baggley. "She hasn't been hospitalized since."
Funded by the Michael Smith Foundation for Health Research, Lee-Baggley is one of a handful of researchers looking at the links between the consuming need to be perfect and physical disorders such as headaches.
"There's considerable research on how perfectionism puts people at risk for a host of mental disorders including depression, anxiety and eating disorders," she says.
"But there hasn't been much research done on how perfectionism is a risk factor for physical well-being. I'm interested in understanding the physical health consequences for people living under the stress of unrealistic standards."
Lee-Baggley works with UBC Psychology Prof. Paul Hewitt, one of the world's leading experts on perfectionism. Hewitt developed a multidimensional scale that measures three facets of perfectionism: self-oriented (expecting perfection of oneself); other-oriented (expecting perfection from others); and socially-prescribed (perceiving perfectionistic expectations from others). Those who score high in one or more of the measures may be at risk for mental and physical health disorders.
Lee-Baggley probes how perfectionism generates or magnifies the risk factors -- such as stress -- that cause a person to experience a common ailment like headaches. Currently, 10 to 35 per cent of Canadians suffer from headaches, ranging from tension headaches to severe migraines.
"Clearly, there's a need to look deeper into what's causing these physical symptoms, especially when you consider the significant emotional, social and economic costs of headache disorders," says Lee-Baggley.
In her most recent study, Lee-Baggley asked 340 participants to report on perfectionism traits and their experiences with headaches, which were rated according to frequency, severity and any resulting distress or disability.
Her data shows that those high in perfectionism -- people who exhibit traits such as relentless striving and rigid expectations -- are significantly more at risk for headaches.
"Perfectionists live under constant pressure, in a world where they can't make mistakes, they can't have failure," explains Lee-Baggley. "When they feel they have failed, they may be prone to experiencing headaches."
The physiological costs for a person living under this kind of pressure may include more strain on the cardiovascular system and higher than normal levels of cortisol, a stress hormone.
"Our data suggests that those high in perfectionism may be experiencing more frequent and longer physiological reactions to stress. And over prolonged periods this could result in headaches and other health difficulties."
Lee-Baggley plans to conduct further research that looks at the role perfectionism plays in other health problems, such as cardiovascular disease. She says by understanding the link between personality traits and harmful levels of stress, there can be more effective treatment and prevention of mental and physical ailments.
As to why some people are prone to perfectionism, Lee-Baggley says current theories point to the person's predisposition along with factors such as family or school environment where a child may feel failure or mistakes aren't tolerated or acceptable.
And as for treatment, Lee-Baggley says she tries to help patients understand how their perfectionism expresses itself in everyday life, such as interpersonal conflict and self-criticism.
"If it's a student who is focused solely on grades, I try to get them to find other ways to feel good about themselves. That might mean recognizing the value of a variety of domains, such as relationships, in addition to school."