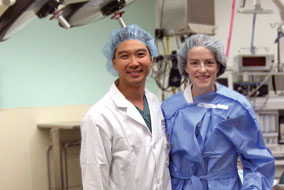 Andrea Marrie is the only person in Canada to recover heart function after needing two heart pumps, implanted and removed by UBC surgeon Dr. Anson Cheung - photo courtesy Andrea Marrie
UBC Reports | Vol. 53 | No. 2 | Feb. 1, 2007
Student Beats Odds to Overcome Heart Failure
By Hilary Thomson
It's not likely Andrea Marrie will ever win the lottery. Why? Because she scored a lifetime of luck last year.
On March 26, 2006, the 22-year-old fourth-year UBC biology student collapsed and was taken to UBC Hospital. She was released after overnight observation for what was believed to be the flu. After spending a day vomiting, she went to Vancouver General Hospital (VGH) where her condition plummeted due to massive heart failure; she lost consciousness and was put on life support.
Doctors didn't know what was happening to this previously healthy and active young woman, but they told her frightened friends waiting at the hospital that she could die within 24 hours.
"I was in shock. I just kept thinking this isn't possible," says roommate Jill Kratzer. "We were allowed in to see her but it was really difficult because she was hooked up to all these machines with IV bags everywhere. My memory of those hours is all kind of a blur."
At about 6 a.m. on March 28, the friends and Andrea's aunt (her parents were in transit from Vancouver Island) were told she was getting worse. The hospital priest was called to give last rites and everyone said their goodbyes.
That was the bad luck. The good luck kicked in when the cardiologist at VGH called in members of the St. Paul's Hospital heart team who recommended inserting a ventricular assist device (VAD). The device, available in B.C. only at St. Paul's, is used to keep critically ill heart patients alive until a transplant can be performed. The procedure involves inserting a fist-sized pump into the abdomen, where it takes over the natural pumping action of the heart.
Dr. Anson Cheung is Surgical Director of the Cardiac Transplant and Mechanical Circulatory Assist program of B.C. at St. Paul's and UBC Clinical Assistant Professor of Surgery. He inserted VADs in both left and right ventricles, or heart chambers, allowing Marrie's heart to rest while the pumps did the work.
Marrie was in hospital for about five weeks to recover from her initial heart trauma -- caused by either a virus or an unusual heart rhythm -- and her surgeries.
"Andrea's first weeks at St. Pauls' Healthy Heart program were very slow -- she'd had three major cardiac surgeries and had lost a substantial amount of physical condition," says Annemarie Kaan, Clinical Nurse Specialist for Heart Failure and Heart Transplant. "There were days when she felt she would be weak for the rest of her life, but there was always someone there to boost her spirits and help her maximize her fitness level."
Marrie tried to live as normal a life as possible with the VADs, even going to the beach pulling the VAD system's 10 kg. air compressor behind her.
In mid-July, the second big piece of luck came her way.
She was shocked when Cheung -- who in 2001 initiated the VAD program at St. Paul's -- told her that her heart had recovered to the point where the VADs could be removed. Marrie is believed to be the only person in Canada and one of very few people in the world to recover heart function after needing two simultaneous VADs to keep her heart pumping. Fewer than five per cent of all single VAD patients can have the device removed without need for transplant.
The devices were removed in July and Marrie took physio at St. Paul's until the end of November and completed a couple of UBC courses. Now living in her hometown of Campbell River, she works at a ski resort two days a week, and can walk/jog, ski, and play some volleyball.
"It's definitely changed me. I'm very optimistic now about everything," says Marrie. "I have a huge appreciation for health care and I actually love visiting staff and patients at St. Paul's because I had such an amazing experience there."
Her older brother showed his appreciation by naming his first baby, born in October, Anson, after the surgeon who helped save his sister's life.
Marrie is applying to UBC's School of Rehabilitation Sciences to pursue a graduate degree in Occupational Therapy.
Almost 70,000 British Columbians are affected by heart failure, according to B.C. Ministry of Health. In 2006, there were 16 heart transplants in B.C. and nine patients waiting for transplant at year-end.
St. Paul's Hospital is a UBC clinical academic campus and part of Providence Health Care. It provides care in partnership with Vancouver Coastal Health and offers specialty services in coordination with the Provincial Health Services Authority. The Heart Centre at St. Paul's is the provincial heart centre.