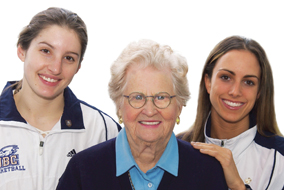 Mary Campbell (centre) led UBC's women's basketball to win the 1930 world championship - photo by Bayne Stanley
UBC Reports | Vol. 53 | No. 12 | Dec. 6, 2007
Peak Performances in the Flight of the Thunderbirds
By Don Wells
UBC's history in varsity athletics can be traced back to the fall of 1908, when the University's predecessor institution, McGill University College of British Columbia, fielded a rugby team, which captured the Miller Cup as city champions in March of 1909.
Since that time, a relatively equal amount of British and North American sport traditions have endured through the decades to create an athletics program of great breadth and diversity within the modern context of Canadian university sport. What other university, for example, is today a proving ground for both world champion rowers and major league baseball players?
While objectivity is admittedly elusive in determining who or what is best in the world of sport, there have been a handful of accomplishments that surely serve as milestones in the sporting history of UBC -- and indeed the province of British Columbia -- and which may never be forgotten, particularly among the some 18,000 former UBC students who have worn the blue and gold colors of "Varsity."
July 1930
After defeating UBC's women's basketball team in the final game of the 1930 national championships, the renowned Edmonton Grads earned the right to represent Canada at the upcoming Women's Olympiad. Owing to scheduling and funding issues, the Grads declined the invitation to participate and suggested that their respected opponents from UBC take their place.
Even though a city-wide fundraising effort only raised approximately half the money required to make the epic journey, UBC's team departed on a three-week voyage by sea and rail to Prague where they met France in the gold medal match. Led by the scoring touch of Thelma Mahon and Mary Campbell, and playing on an outdoor cinder court before an estimated crowd of 10,000 spectators, UBC prevailed 18-14 and was crowned world champions.
August 1954
While the Vancouver-hosted 1954 British Empire and Commonwealth Games are commonly remembered as the setting of the legendary "Dream Miracle Mile" race between the fastest men in the world -- Roger Bannister and John Landy -- the host nation's crowning moment took place on the Vedder Canal near Chilliwack. It was there, as the Duke of Edinburgh looked on, that UBC's eight-man rowing crew stunned the rowing world by defeating the heavily favoured British crew for the gold medal.
The win sparked a golden era in the sport, with UBC rowers winning medals in the 1956, 1960 and 1964 Olympic Games, including gold for the varsity eight in 1956 in Melbourne, as well as for coxless pairs partners George Hungerford and Roger Jackson in 1964 in Tokyo.
February 2007
Competing at Dalhousie university in Halifax, UBC's men's and women's swim teams earned another mark in Canadian university sport history by each claiming its 10th consecutive Canadian Interuniversity Sport (CIS) championship -- an unprecedented achievement in any CIS sport.
Two-time Olympian Brian Johns ended his record-setting varsity career with a third CIS Male Swimmer-of-the-Year title, another unprecedented exploit.
The women's team was led by the foursome of Caitlin Meredith, Haylee Johnson, Michelle Landry and Stephanie Nicholls, who set a new Canadian record in the 4 x 100 metre medley relay with a time of 4:04.97.
Don Wells is a Vancouver writer, video producer and communications strategist. He graduated from UBC in 1989, worked with UBC Athletics from 1989-97, and authored the just-released 160-page historical book Flight of the Thunderbirds, with over 300 photographs. It is exclusively available at the UBC Bookstore (Main campus, UBC Robson Square and UBC Okanagan), or on-line at www.bookstore.ubc.ca, for $39.95.