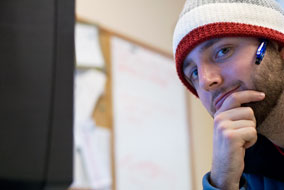 Gavin Dew, AMS Vice President Academic - photo by Martin Dee
UBC Reports | Vol. 52 | No. 2 | Feb. 2, 2006
New Portal Gives Students One-Stop Access to Learning Resources
By Basil Waugh
Students wanting to get a jump on academic success at UBC have a new study partner at their service.
Launched in September 2005, Learning Enhancement Academic Partnerships (LEAP) is a student-led web-portal that, for the first time, gives one-stop access to student learning resources, including academic coaching, peer-tutoring, study groups, student blogs and a wide variety of learning skills workshops.
By reducing the amount of time and distance between students and these resources, LEAP addresses a problem that faces university students and resource-providers around the globe, says Gavin Dew, Alma Mater Society (AMS) Vice-President Academic.
"Hunting down resources at major universities has historically been time-consuming and a little overwhelming, particularly for first- and second-year students," says Dew, one of several students who guided LEAP's development with the assistance of the Office of Student Development and the Office of Learning Technology.
"But LEAP makes UBC the exception to this rule. All our resources are now just one website away."
In addition to bringing together existing resources, LEAP is being used as a launching pad for two major new online resources. January saw the launch of online coaching, which enables students to connect online with peer coaches for academic advice, and, in February, students can access online tutoring for assistance in core subjects.
"Students have busy schedules and many cannot make the traditional versions of these services," says Dew. "By making coaching and tutoring available online, we are giving these students access to two really valuable services."
Although LEAP has only been active for six months, the UBC Teaching and Learning Enhancement Fund-supported site has already received over 15,000 visitors and been recognized by the U.S. organization Academic Impressions as a model best practices for online student services. According to Janet Teasdale, director of the Office of Student Development, student leadership and LEAP's broad focus are responsible for these early signs of success.
"It's no mystery why students are finding that LEAP responds to their needs," says Teasdale.
"Students took ownership of the project from day one and worked very hard to guide us to the right mix of resources and features."
"Other universities provide online learning resources, but their focus tends to be on struggling students," adds Teasdale.
"What makes LEAP unique, not to mention a richer experience, is its focus on all students, whether they are at 60 percent trying to get to 70, or 80 percent trying to get to 90."
Behind the screen, LEAP is published using Movable Type, weblog software that allows resource-providers to easily upload new content, manage student feedback, and expand the site in the future. Unlike traditional content management systems, Movable Type empowers providers to publish content to the web quickly without going through gatekeepers or web administrators. In addition to facilitating student commentary on LEAP's resources, the system's weblog software sends email notifications of new feedback directly to the relevant departmental contact.
"We have used technology in a way that really bends many of the rules of institutional websites," says Michelle Lamberson, director of the Office of Learning Technology. "Weblog software gives us a flexible site that can easily grow in whatever direction students or resource-providers want to take it."
For more information on LEAP, visit www.leap.ubc.ca.