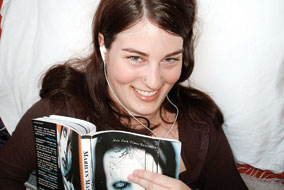 Ashley Bayles found an increased appreciation for the work profs put into their courses - photo by Nic Fensom
UBC Reports | Vol. 52 | No. 8 | Aug. 3, 2006
School of Rock
Student designs her own course about music and pop culture
By Robert P. Willis
One student reminisces about his three-year love affair with the music of the Grateful Dead. Another plays a song that reminds her of the time her family's motor home went up in smoke and her possessions burned to ash.
The focus of the assignment is to compile a collection of music that makes up the soundtrack of your life. These 18 UBC students are being asked to think about how they attach personal meaning to popular music, not by a professor, but by one of their own.
The class — "Sex, Drugs and Rock 'n' Roll: Popular Culture, 1970s to Today" — was created by Ashley Bayles, one of 19 students who have each recently facilitated a seminar course at UBC.
"Basically, this is the type of course I definitely would have enrolled in, if the school offered it," says Bayles, who graduated this spring with a B.A. in English Literature.
Other popular student-directed seminars offered at UBC during the 2005 to 2006 academic year include subjects ranging from "Politics of HIV/AIDS in Africa" and "Gender, Sex, and Sexuality in Japanese Culture" to "Factors Modeling the Spread of Diseases" and "Topics in Stem Cell Research."
Modeled after a similar initiative at the University of California at Berkeley, the program offers any upper-level student the opportunity to coordinate a seminar course. An advisory committee reviews submissions, while faculty sponsors help turn student proposals into classes with course outlines, reading lists, and assignments.
With Prof. Gisele Baxter, an expert in pop culture, assisting as faculty mentor, Bayles created a 13-week seminar looking at the impact of rock music on society and popular culture. Seminar topics ranged from punk rock as it relates to 20th century avant-garde art movements to how "Do-It-Yourself" culture is re-defining the music industry.
As seminar co-ordinator, Bayles was responsible for organizing guest speakers, reading materials, as well as reviewing music and films for the seminar. Bayles and Baxter collaborated on class content, structure, and evaluation procedures. Baxter, like all faculty sponsors of student-led seminars, was responsible for grading assignments.
The seminar's required media list included written works such as the quasi-autobiography by shock rocker Marilyn Manson, The Long Hard Road Out of Hell; documentaries and films (The Filth and the Fury and Hard Core Logo), and albums by The Clash (London Calling) and Nine Inch Nails (The Downward Spiral).
Former MuchMusic host Terry David Mulligan was invited to speak at a couple of classes. In one, he led a lively discussion on how Canadian roots music defines the nation's sound, as well as how technology is changing the recording industry.
To meet academic requirements, students conducted presentations and wrote term papers on the work of acclaimed rock critic Lester Bangs, as well as on Hunter S. Thompson's influential Fear and Loathing in Las Vegas, a work many students identified more from its film version than the book itself.
Students who took Bayles' seminar say they enjoyed the in-class discussions.
"Everyone had something to say about sex, drugs and rock n' roll," says Mike Hurwitz, a Geography major who took the class.
"The course is a really good opportunity to take on a leadership role on topics we're interested in," he adds. "I've been studying a lot on nation building in my other courses, and I found this really applied to the topic of what makes Canadian music Canadian."
Bayles says she found facilitating the class and being in a position of authority the most challenging aspects of running a seminar.
"I definitely had no idea how to run a proper course until now," says Bayles, adding the experience not only made her feel more confident, but it has prompted her to consider a degree in Education.
"You think you have a really exciting topic, but it just totally depends on how your class is feeling that day," she adds. "I realize how much professors put into their courses."
Robert P. Willis is a graduate student in the UBC School of Journalism.