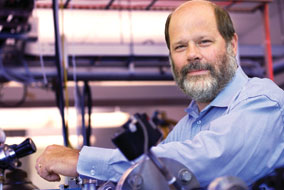 Prof. John Hepburn - photo by Martin Dee
UBC Reports | Vol. 51 | No. 9 | Sep. 7, 2005
New VP Research Describes Growing Global Vision
By Hilary Thomson
A monster research enterprise that also advances student learning is how UBC's new vice-president, Research, describes his vision for the university.
Prof. John Hepburn, a laser scientist, takes over from acting vice-president, Research, David Dolphin on Oct. 1. A UBC faculty member since 2001 and dean of science since 2003, Hepburn has a unique perspective on the university's research activities.
UBC Reports recently talked with Hepburn to learn more about his ideas for UBC research.
Q. What do you mean by monster research enterprise?
I mean research dominance across a wide range of disciplines, such that UBC is recognized as one of the leading centres for scholarly work and applied research. We're already excellent in many areas of research -- but I think our impact can be even greater.
Q. What can be done to change a common perception of conflict between teaching and research?
It drives me crazy that when people say teaching, they only mean classroom instruction. Guiding and training students and post-docs in a research lab is advanced teaching, but almost never gets counted as teaching. We need to create mechanisms where students at all levels can participate in the excitement of discovery. Whenever students are part of the process of inquiry, they are learning -- whether it's in a lab or a classroom.
Q. But isn't there a conflict between research and teaching for undergrads?
There doesn't need to be, if we build on our successes in involving undergrads in research. I'd like to see even first-year students exposed to the big research ideas on this campus. Researchers should be challenged to explain their work to undergrads so they want to get involved in research. By the same token, administrators have to appreciate that including undergrads in research means substantial investments of time and money. It needs to be supported and included in teaching credits for faculty.
Q. What does UBC Okanagan need before it can be fully integrated into the university's research enterprise?
The big challenge is infrastructure. Although very good research was conducted at UBC Okanagan when it was a college, investigators haven't had research tools that they need, such as dedicated labs and a research library. In addition, we need to build a culture at UBC Okanagan where research is rewarded. At both campuses, we have the challenge of involving undergrads in research, but with UBC Okanagan's smaller classes, it may be easier to accomplish.
Q. How can the work of UBC's social sciences and humanities researchers be better understood and promoted?
As with other areas, infrastructure, such as an excellent library, is the first thing. But we also need to make sure a research culture is nurtured among faculty and students. Research should be one of our primary tasks and if everyone's thinking that way, it generates excellent research. It cuts both ways, though. University administrators have to recognize that good research is hard work and provide suitable rewards and motivation.
It's a fact of life that in many areas of science and engineering, particularly biomedical science, research generates big bucks. That leaves a sense of under-appreciation among other researchers, including basic scientists. So a common problem is finding ways to recognize research excellence independent of research funding. It needs to be valued because of its impact.
Much social science and humanities research is not grant-based. Researchers who seek grants must "sell" their research idea, which creates a culture of self-promotion. We need to make sure our non-funded researchers don't get ignored in that culture.
Researchers also need to take responsibility for their own impact, to believe their own research is excellent and tell people about it. We can facilitate that, but they have to do it. If you do nothing, you're going to wait a long time for someone to recognize your brilliance.
Q. What needs to be done to better recognize the role of graduate students and post-doctoral fellows in the research enterprise?
So much of the research done at a university is done by grad students and post-docs. Getting the world's best to come to UBC is going to convert us into a monster research enterprise. Support is critical, but not the only consideration. What motivates students is infrastructure and a performance environment that enables them to do their best research. That's key because it's the basis for future jobs. It's a virtuous circle -- once you get better grad students and infrastructure, the research quality improves. Then, even more excellent grad students are attracted to the university and you keep building on success.
Q. Is there priority attached to building UBC's international research reputation?
Yes, I think there has to be. Recognition of excellence in research has to be international recognition. Our researchers, and that includes students, have to be out there in the world, doing their research and promoting their research. If you want to interact with world-class peers you have to go outside Canada. The federal government had to cut back on operating costs for international research in the '90s. I think those investments need to be made again. For a relatively small investment added to money put forward by foreign governments, we can get access to a huge international network of researchers.
Q. What will help create a monster research enterprise?
Consistent, continuing and secure funding is needed from the federal government. The overall research climate is very good, but funding has tended to spike, which makes planning difficult. We need more funding for operating and indirect costs of research.
More provincial government engagement in university research and graduate studies is also needed. In Alberta, Ontario and Quebec, the provincial government funds infrastructure, centres of excellence, graduate scholarships and provides other significant funding. Signs are good that our provincial government is looking for ways to help us move forward.
The other component is industrial support of fundamental research -- this support hasn't advanced in the last five years and is one of the reasons Canada lags behind other G-8 countries in research and development.