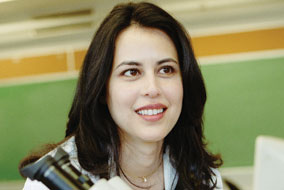 UBC education professor Samia Khan - photo by Martin Dee
UBC Reports | Vol. 51 | No. 9 | Sep. 7, 2005
Education Prof Designs Better Learning Spaces
By Lorraine Chan
UBC's new campus buildings are not only green, they have been planned to enhance learning.
The UBC computer science department recently asked UBC education professor Samia Khan, an expert in designing learning spaces, to help shape its new Learning Centre. The department wanted a space where students could put into practice the theories they were learning and overcome technical hurdles with a helping hand from teaching assistants.
"Current research shows that learning is a dynamic and collaborative process," says Khan. "The part I contributed to the discussion was how students can construct knowledge individually, in groups and with digital technology, and how that learning can be assessed."
Khan says the exchange translated into a flexible space where furniture on wheels can be easily reconfigured into single workstations or clusters to foster group learning. Electrical outlets and data ports run the length of the surrounding walls to provide students easy access throughout the Centre.
A resource centre for undergraduates, the new Learning Centre was unveiled at the July 2005 opening of a $40 million building expansion called the Institute for Computing, Information and Cognitive Systems / Computer Science (ICICS/CS) Addition.
Khan says technology can complement and extend the physical spaces for high school and university classrooms.
"For example, in science where it's essential for students to test ideas and build models, a simulation or remote access to scientific instruments from hundreds of kilometres away can extend laboratory and classroom spaces so learning can be fostered anytime and anywhere."
Khan is researching these types of hybrid learning spaces with high schools in Surrey and Langley.
"We want to develop science classrooms that are both face-to-face and virtual."
As well, Khan is working with education faculty and staff to design a new science education wing at the UBC Scarfe Building.