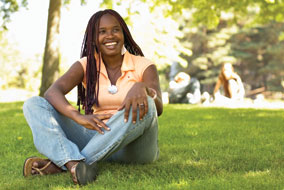 Esther Maunze, a 4th year political science student - photo by Martin Dee
UBC Reports | Vol. 51 | No. 9 | Sep. 7, 2005
Scholarship Provides Unique Opportunity for International Students
By Ai Lin Choo
Esther Maunze decided very early on in life that scoring exceptional grades would be the only way she'd make something of herself.
Growing up in a SOS Children's Village in Zimbabwe, a branch of an international child welfare organization which provides homes and education for orphaned or abandoned children and teenagers, Maunze knew hard work at school would eventually pay off and provide her with the opportunity to live and work overseas.
"In Africa, most people want to go abroad to study because we think that's where all the opportunities are," she explains. "As the first-born in my family, it was my responsibility to do well. I have three younger siblings and I wanted to show them that if you work hard, anything is possible."
Maunze's determination began to pay off when she was accepted at the SOS-Hermann Gmeiner International College in Ghana, a school that prepares gifted children from SOS Children's Villages for advanced education.
And her dream to live overseas finally materialized three years ago when she was offered a full scholarship to pursue her post-secondary education at UBC.
With a long history of community service, leadership roles and an outstanding academic record, Maunze was a strong candidate for a UBC International Leader of Tomorrow Award (ILOT).
"I was in my final year at high school when I heard about the award," says the fourth-year political science student. "My school counselor encouraged me to apply, and within 48 hours, my application was in the mail."
The award, first launched in 2001, provides financial support for a number of gifted international undergraduate students, who would otherwise be unable to pursue post-secondary education without substantial financial assistance.
"When I first got the e-mail from UBC congratulating me on the award, I honestly thought it was spam," she confesses. "When I finally realized it was for real, I was thrilled. I would never have been able to come to Canada without a scholarship or some means of financial aid."
Maunze's award provides her with $24,000 a year to pay for tuition fees, board and one annual trip home, and she receives help from her guardians at SOS as well.
Over the past five years, 77 awards have been offered to students from countries as far away as Kenya, Palestine, Guatemala, Bangladesh and Bosnia, says Don Wehrung, director of UBC's International Student Initiative (ISI), the team responsible for promoting the university to potential applicants overseas.
The award ranges in value between $14,000 and $34,000 per academic year, and the amount is reviewed and adjusted annually to reflect any changes in a student's financial circumstances.
"The award was developed to enhance the cultural and socio-economic diversity of the student body, and to promote a greater understanding of global issues for faculty, staff and students alike," explains Wehrung.
"Our Board of Governors has approved expanding spaces for international students in undergraduate programs to up to 15 per cent of total enrolment from a wide diversity of countries by 2015, and we've interpreted that mandate to seek diversity in recruitment from all over the world, not just from countries with the biggest markets."
Including new registrants for September 2005, there are currently 3,384 international students enrolled in undergraduate, visiting student and exchange programs at UBC, and 1,689 graduate students, representing more than 12 per cent of the total enrolment.
As part of the university's commitment not to use B.C. provincial government grants to subsidize the education of international undergraduates, some 6.7 per cent of annual international tuition fees collected by the school fund the $1.5 million provided in international student assistance for this program.
Based on the success of the ILOT award, ISI has also been fund-raising over the past year to initiate a new humanitarian award that would financially enable international students from disadvantaged circumstances to attend UBC, without having to show a long track of community involvement.
"We have found that students from war-torn areas or other disadvantaged circumstances don't often have the luxury to volunteer their time in community efforts or take on leadership roles," explains Wehrung.
For her part, Maunze believes awards like the one she received are essential to ensuring a diverse community at post-secondary institutions, and she is a strong advocate for greater international student representation on campus.
Over the past two years, Maunze has served as International Student Coordinator with the undergraduate student government. She has also been an active organizer and participant in Africa Awareness Week on campus.
"Our international student body at UBC is continually growing, so I wanted to help ensure that all students are represented on campus and feel like they belong to the campus community, regardless of where they come from," she says.
She's also taking her role as an international leader of tomorrow seriously, and would like to take on an internship in development work next year, and hopefully return to Zimbabwe one day and run for political office.
"The first thing I wanted to ensure was that my siblings would follow my lead and take school seriously," she explains. "Now that they're all doing well, I'd like to contribute to society in some way and I think development work or public service are the best ways to achieve that."