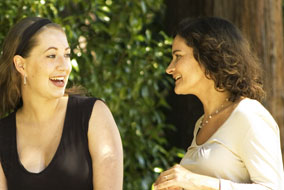 Alumna Sasha Wiley (L) and UBC sessional instructor Larissa Petrillo - photo by Martin Dee
UBC Reports | Vol. 51 | No. 9 | Sep. 7, 2005
Building a Strong Foundation
First-year Arts students benefit from small cohorts, cross-discipline teaching
By Lorraine Chan
UBC's Foundations program acts like a hothouse incubator, equipping first-year UBC Arts students with research, writing and thinking skills they can draw on throughout their undergraduate years and beyond.
Created in 2000, the interdisciplinary learning model has inspired programs at Carleton University, Simon Fraser University and the University of Wollongong in Australia. Foundations students benefit from small cohorts and cross-discipline teaching. The program combines the humanities -- English, history and philosophy -- with social sciences, which include anthropology, sociology, geography, psychology, classical studies and political science.
This year's courses focus on timely issues such as the impact of globalization on culture and scientific versus non-scientific forms of knowledge.
Spanning two terms, Foundations is worth 24 credits, allowing students to select six credits of electives from the general arts curriculum to earn the required 30 credits to complete first year.
The program is open to all first-year Arts students, who number about 2,000 each year. Foundations enrols annual cohorts of 120 to 200 students.
Foundations Director Ron Fedoruk says the program pushes students to view the world through multiple lenses and to also make sense of that complexity.
"One of the key ideas is that students are creators, as well as consumers, of culture," says Fedoruk, a theatre professor who also teaches Foundations courses.
He says the program prods students to think for themselves and to own their ideas. "They're encouraged to defend their position, they're encouraged to argue with us."
"It's messy, robust, sometimes adversarial," says Fedoruk with a wry grin. "It's not sitting around listening to jewels drop from the professor's mouth. But it makes the students more engaged with learning"
Faculty feedback shows this approach works, says Fedoruk. "We hear from faculty who teach senior classes that they can recognize a Foundations student because they create a welcomed dynamic in seminar classes."
Fedoruk explains that by third or fourth year, students are expected to present material and to defend an argument with a professor.
"That can be quite intimidating for some undergraduates. But students coming out of Foundations are already comfortable with the process."
Students also get used to dissent and strong opinions among their instructors. Foundations offers three courses, each taught by a cross-discipline team of three professors who collaborate on the theme, ideas and content.
Foundations also has nine or more teaching assistants (TAs), who in Fedoruk's view are "remarkably well-travelled and well read," to act as seminar discussion leaders, mentors and writing tutors.
Students are put through a rigorous weekly pace of three two-hour lectures and three two-hour seminars. While the lectures address the entire cohorts of 100 or more students, the seminars are limited to 20 where TAs and students further discuss the course material.
Fedoruk says the intense interaction forges a sense of community among the student cohorts and their instructors.
"These associations tend to continue throughout their BA so they feel connected to the student body and to the university in a way that students in a regular program don't get. That's as important as any other factor in the future success of Foundations students."
UBC education student Sasha Wiley enrolled in Foundations during 2001. She says the program's warm, collegial relationships made her see her professors as mentors.
"Foundations broke down the barriers between the kids and the instructors. That approach made me more likely to get to know my profs in my later years."
UBC sessional instructor Larissa Petrillo witnessed Wiley's growth in Foundations.
"It's wonderful to work so closely with students one-on-one. You see their progress over the entire year in their ideas, writing, arguments and confidence in speaking at seminars."
Petrillo, who holds a PhD in interdisciplinary studies, says it's a huge advantage for students to receive continual feedback from one source.
"First-year students often don't see benefits until after the fact, when they're out there and there's no community, no personal
connection in the same way there is in Foundations with the person who's marking their work."
For Wiley, that degree of personal attention sharpened her academic edge.
"I came out of Foundations writing excellent papers. It's the only place in university where professors and TAs worked with me for an entire year to write a good paper and to construct a strong argument."
Further, Wiley says the intellectual curiosity and diversity of views at Foundations inspired her to become a teacher.
"I got such a big picture view from having professors from different disciplines and from the different ways they look at the world," says Wiley. "I want to bring that breadth and open mindedness to high school education."