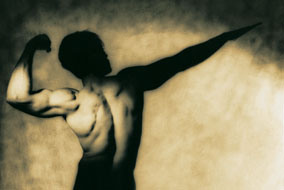 International scholars will examine Physical Culture, Power and the Body at UBC's Peter Wall Institute of Advanced Studies
UBC Reports | Vol. 50 | No. 9 | Oct. 7, 2004
The Body Beautiful
The body is big in the academy. Once the territory of doctors and biologists, the body has emerged as a hot topic for scholars in an increasing number of disciplines including anthropology, sociology, literature and history.
more...
A New Entrance for UBC -- by Design
International architects and jurists will help the UBC community create a new social heart for the campus. UBC will soon be inviting the world's best architects to participate in an architectural competition that will redefine UBC's main entrance on University Boulevard.
more...
UBC's Learning Exchange Recognized for the Great Trekker Award
UBC students have recognized a distinguished educator who is helping change the face of learning at UBC and in Vancouver's Downtown Eastside with the 2004 Great Trekker Award.
more...
United Way Campaign Well Under Way
With a successful September kick-off event behind them, and more than $35,000 already raised, organizers have the 2004 UBC United Way Campaign well underway.
more...
For the Record
The September 2 issue of UBC Reports provided an incomplete description of the new Institute for Computing, Information and Cognitive Systems / Computer Science building nearing completion at 2366 Main Mall.
more...
Becoming a Mum after 35
As the mums and strollers roll by, it's obvious that more women over the age of 35 are having babies. In fact, there has been a 83 per cent increase from 1991 to 2000 for babies born to Canadian mothers over 35, according to the Canadian Perinatal Health Report, 2003.
more...
UBC Education Alum Helps Restore Afghanistan Agriculture
Proving that you can go home again, UBC alumnus Tooryalai (Toor) Wesa traveled to Afghanistan this summer as part of an international effort to revitalize his former country's agriculture system after two decades of war.
more...
Growing Healthy at Work
Workplace bullies, humour and health, and the role of the manager are among the topics to be explored at UBC's second annual health symposium.
more...
New Computer Science Degree Program
As classmates go, they couldn't be more different. Laura Aslan is a 34-year-old single mom with a Master of Psychology who has spent most of the past four years since she arrived from Romania working in group homes with teenagers at risk and their parents.
more...
The Pleasures of Silk
Raising silk worms for a new project involving UBC landscape architecture students and Lower Mainland street youth is the next step in Joanna Staniszkis' long and creative association with UBC.
more...
Features