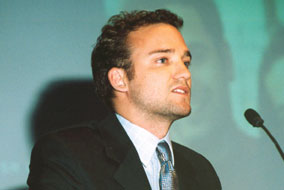 Alexandre Trudeau speaking at UBC's annual general meeting - photo by Martin Dee
UBC Reports | Vol. 49 | No. 11 | Nov. 6, 2003
Sacha Trudeau on Global Citizenship
Speaking at UBC's annual general meeting, Alexandre (Sacha) Trudeau, filmmaker and board member for the Pierre Elliott Trudeau Foundation, told the capacity Robson Square crowd that while we live in an age of information, our limited understanding of each other remains a fundamental problem.
more...
Newest CRCs Part of National Milestone
An expert in natural disasters, a wine yeast researcher and a specialist in consumer behaviour are among UBC's six new Canada Research Chairs.
more...
Campus Energy Boosts United Way Efforts
It's now the mid-point of the 2003 UBC United Way campaign, and support is building in the quest to meet this year's $500,000 target, according to co-chairs Eilis Courtney and Deborah Austin.
more...
Fall Congregation Starts Nov. 26
More than 2,600 students will graduate at UBC Fall Congregation, to be held Nov. 26 and 27 at the Chan Centre for the Performing Arts. Ceremonies will take place at 8:30 a.m., 11 a.m., 1:30 p.m., and 4 p.m. each day.
more...
New Science Dean: More Research Funding, Less U of T Envy
John Hepburn is an internationally recognized powerhouse in the fields of laser chemistry and laser spectroscopy research who studied under Nobel prize-winning chemist John Polanyi at the University of Toronto.
more...
Way Finding Easier at maps.ubc.ca
If you've ever gotten lost in UBC's vast 600-hectare campus, memorize the following Web address: www.maps.ubc.ca.
more...
What we Don't Know about the Homeless
They are cold, dirty, hungry men huddled under cardboard and blankets with buggies full of pop cans at their side.
more...
Giving Voice to Sick Kids
You've been ill for years, seen dozens of doctors and live with symptoms that affect every aspect of your life. Yet it often seems you have little to say about any of it.
more...
Preserving our Collective Memory
Remember the last time you went through your old papers and photographs looking for that something you just couldn't find and you promised yourself you'd figure out a way to keep it all organized?
more...
Remembrance Day Ceremonies
The university's Annual Remembrance Day Ceremony will be held on Tues. Nov. 11 in the foyer of UBC's War Memorial Gym for members of the campus and surrounding communities as wells as veterans and members of the Armed Forces.
more...
From Toe Shoes to Tenure Track
You'd be hard pressed to find another historian with an acting credit on the Internet Movie Database, the popular entertainment industry Web site.
more...
He Shoots! He Scores! Here's How!
In the fast-paced world of hockey, there isn't a coach -- or fan -- alive who hasn't at one time wished for more insight into why some plays unfold perfectly while others end in disaster.
more...
UBC Alumni
The UBC Alumni Association will honour accomplished members of the UBC community at its Ninth Annual Alumni Achievement Dinner on November 20 at the Fairmont Waterfront in downtown Vancouver.
more...
Hands across the Ocean, Bytes across the Sea
The SARS outbreak may have suspended physical travel to Asia earlier this year but it never stopped virtual travel.
more...
Features