Campus saddened by loss of long-time friend
by Connie Bagshaw
Staff writer
---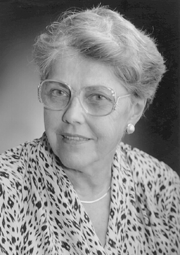 Helen Belkin, a long-time friend and patron of UBC, has died at the age of 77.
"Helen Belkin's work and presence in a quiet, sincere way enhanced the image of UBC, British Columbia and Canada," said UBC President David Strangway. "Those who knew Helen and her late husband Morris will tell you that they practiced a dedicated partnership in all their works."
Belkin's association with the university spanned more than half a century. A UBC alumna, she earned a Bachelor of Arts degree in English and History in 1940.
She also served as secretary to UBC President Norman MacKenzie for seven years and later to UBC's Board of Governors. Between 1983 and 1987, she was a member of the UBC Senate.
Belkin's generosity and commitment were admired throughout the community and the university. She was involved in numerous charitable organizations including the United Way and the Volunteer Bureau of Greater Vancouver, as a supporter of the Vancouver Symphony and as a member of TRIUMF's board of management.
Belkin's lifelong support of her alma mater included a gift to build an art gallery to provide young local talent with a venue for their first major showings. On June 17, 1995, the Morris and Helen Belkin Art Gallery opened its doors to the public.
At the official opening, Belkin said that the new gallery celebrated the vision which her late husband and MacKenzie shared of one day having a fine arts precinct at the north end of the campus.
In addition to her support for the gallery, Belkin was also responsible for the establishment of the Morris and Helen Belkin Art Gallery Operating Endowment which sponsors curatorial activities as well as lectures and symposia.
Her tireless devotion to her community and enduring affection for the university were recognized with an honorary degree awarded in 1990.